Hope you had a wonderful Christmas Eve and Christmas Day~ Christmas might be over, but that doesn't mean that the celebrations are over! Here's more festive inspiration for your upcoming parties, with 4 recipes that are guaranteed to impress your guests and make them go for first, second, and even third servings! And you'll definitely be the talk of the party when you tell them that every course was made using the Regenerative wonder crop that is the Bambara Groundnut (AKA BAMnut) 🌱✨ In our holiday roundup of showstopping BAMnut recipes, we've curated a 4-course menu consisting of a drink, starter, main, and dessert. Let's dive straight into the recipes!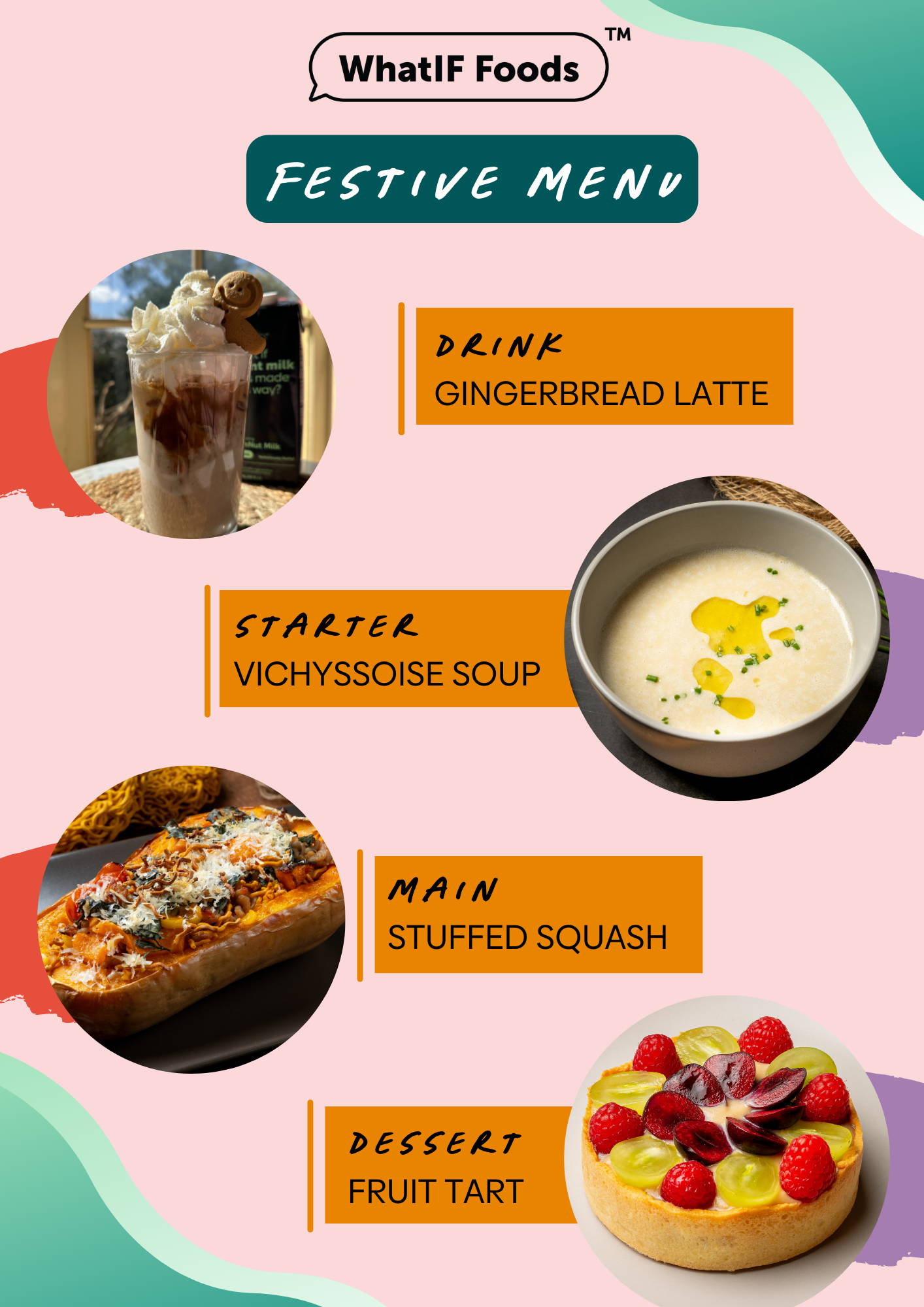 Gingerbread Latte (Ft. BAMnut Barista Milk)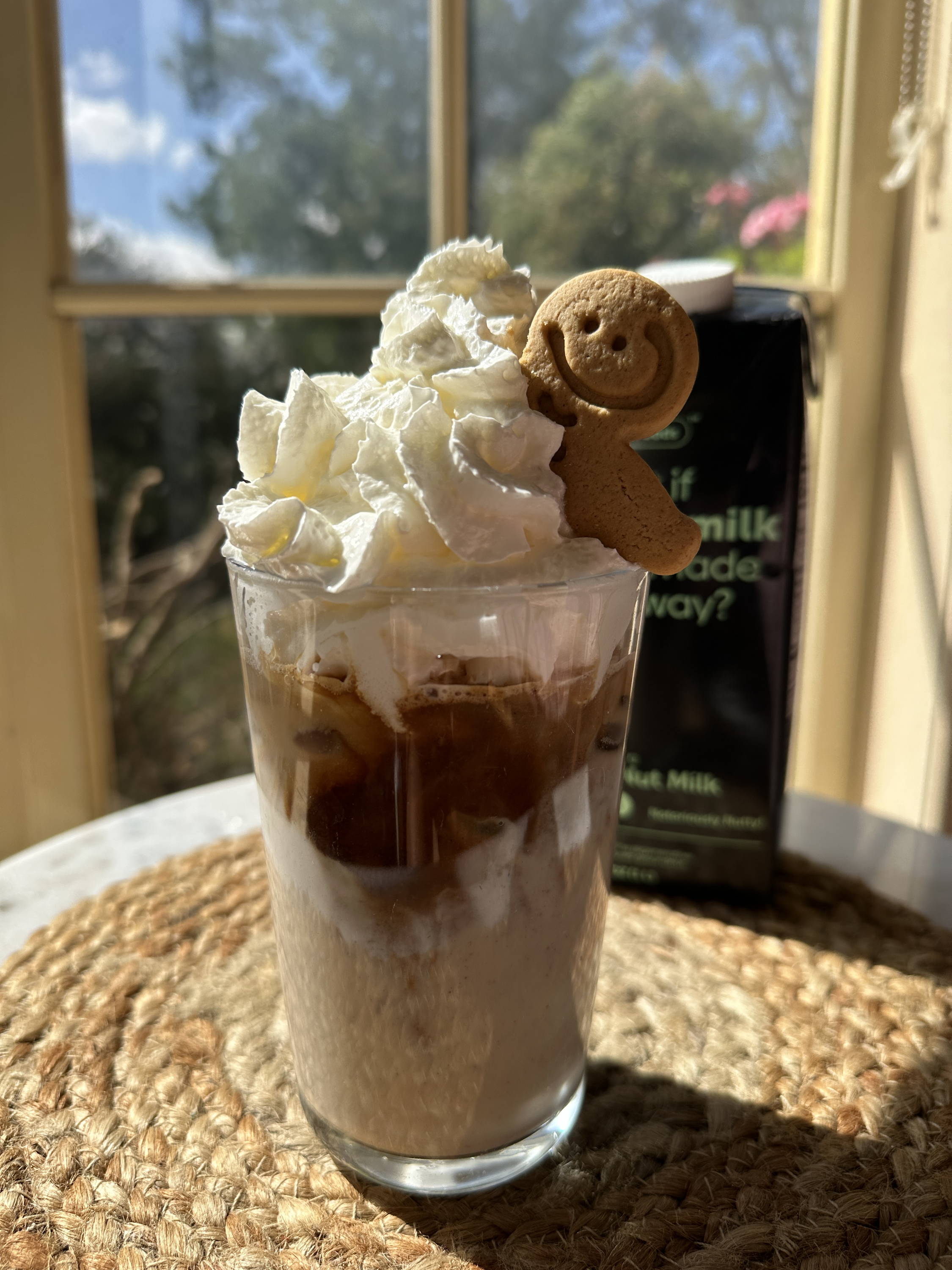 Jingle bells, jingle bells, GINGER all the way~ Oh what fun it is to make a festive drink today, hey! If you're already in the mood for Christmas, then here's a perfect festive drink recipe for you to make! Best of all, it is equally amazing as a hot and cold drink! So depending on whether you're spending an arctic christmas or a tropical christmas, this recipe is for everyone!
In this recipe, we use our super creamy and frothy BAMnut Barista Milk to make a dairy-free, plant-based gingerbread latte! Our BAMnut milk is high in protein, higher in fiber, lower in fat, and is made from the Regenerative Bambara groundnut.
You'll need:
600ml BAMnut Barista Milk
½ tsp ginger powder
½ tsp cinnamon powder
¼ tsp nutmeg powder
2 tbsp brown sugar
Optional:
2 espresso shots
Whipped cream
Gingerbread cookies
Ice
Here's how you make this classic gingerbread latte:
Mix sugar and spices in a bowl. Heat 100ml of BAMnut Barista Milk with blended spices. Mix until sugar dissolves. Add remaining BAMnut Barista Milk (500 ml) and heat until just boiled.
To enjoy it hot: Serve in a mug and top with whipped cream and gingerbread cookies.
To enjoy it cold: Serve in a tall glass with ice and add a shot of espresso. Top with whipped cream and gingerbread cookies.
Moving onto the appetiser course, we have the simple yet elegant Vichyssoise soup. You don't have to go to a fancy restaurant to try this French-inspired soup. Typically being eaten as a cold soup, it's refreshing, and while it only has three main ingredients, it still manages to be packed with flavor.
Vichyssoise Soup (Ft. BAMnut Airy Milk)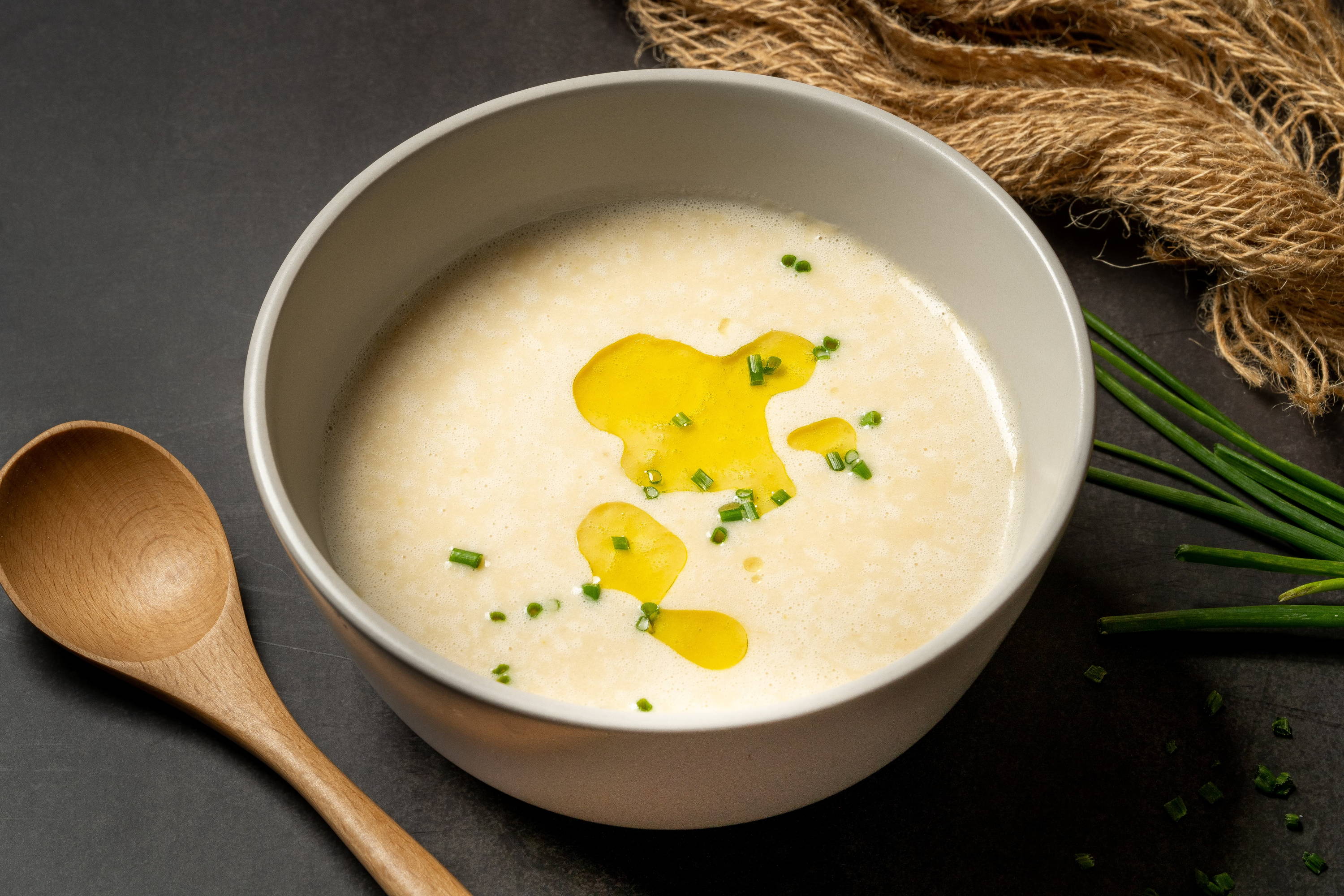 If you've never heard of it before, to put it simply, vichyssoise is a cold soup made of leeks, potatoes, chicken stock and milk or cream. It is traditionally served cold, but can be eaten hot as well.
In our version of a vichyssoise, we replace cream with our BAMnut Airy Milk, which provides a wonderful balanced lightness to this refreshing summer soup. Our recipe is easy to follow, with few ingredients and even easier to make.
To make a vegan-friendly version, substitute chicken stock with vegetable stock.
You'll need:
1 cup BAMnut Airy Milk
1 potato, peeled and diced
1 leek
1 shallot
1 tbsp extra virgin olive oil
½ cup chicken stock
Salt and pepper to taste
Pinch of nutmeg (optional)
Here are the steps to make this deliciously creamy soup:
Dice the leek and shallots. Sautee leek and shallots in olive oil until soft (about 3-5 mins). Add potatoes and saute for 1-2 minutes. Add chicken stock and BAMnut Airy Milk to pan and bring to a boil. Lower heat and simmer until potatoes are soft. Puree in blender till smooth, and add salt and pepper to taste. Add a pinch of nutmeg powder (optional). To serve, add chopped chives and a dash of olive oil (optional).
To enjoy it cold: Let it chill in the fridge for at least an hour.
To enjoy it hot: Heat up the soup on the stove before serving.
And now, please give it up for our main of the day: Nutritious Baked Stuffed Squash with Pumpkin Noodles! Stuffed squash is nutritious, delicious and allows you to maintain your figure while being filled, due to it being low in carbohydrates.
Stuffed Squash with Pumpkin Noodles (Ft. BAMnut Pumpkin Noodles)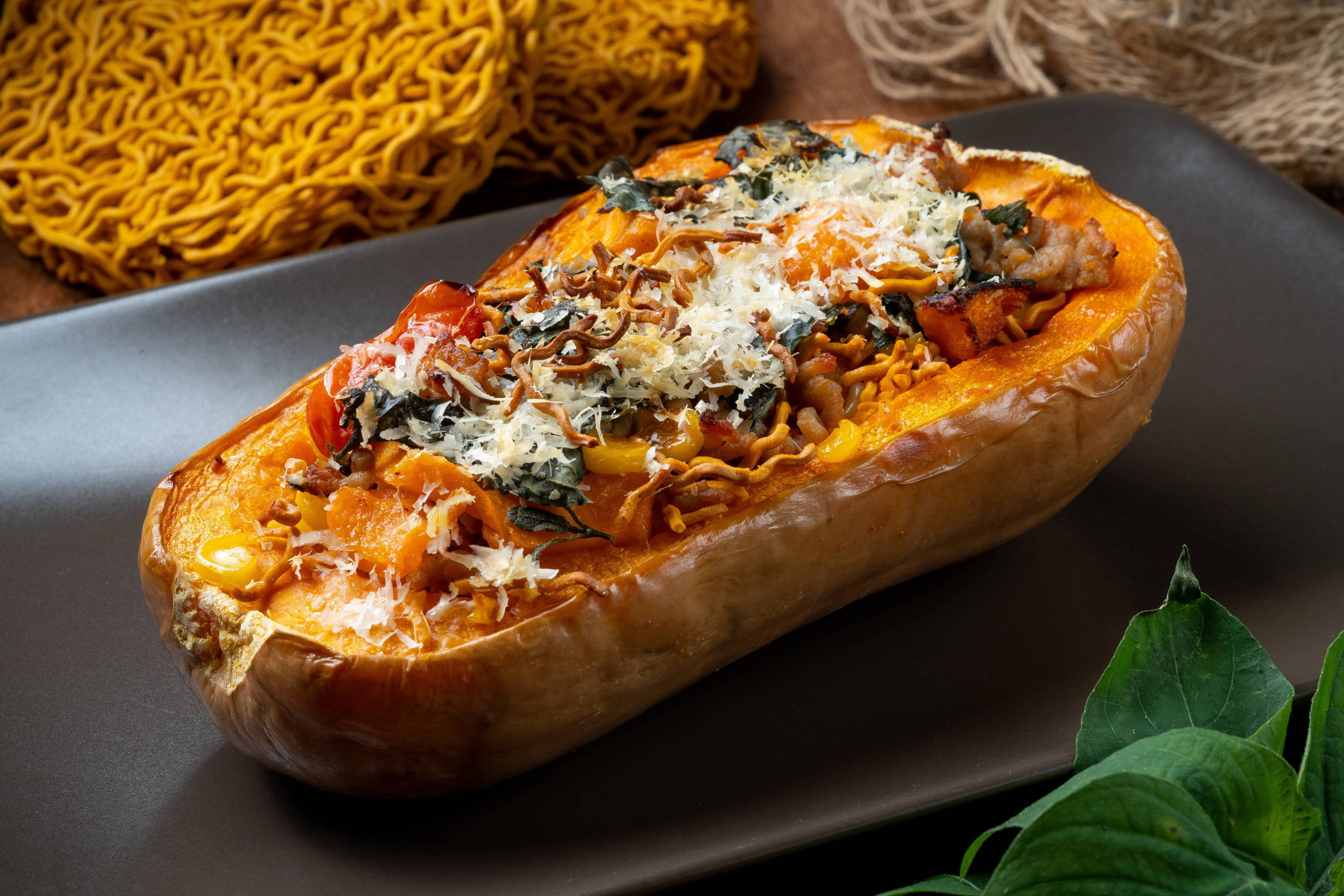 In addition to the host of vegetables, meat and cheese in this recipe, we top it all off with our BAMnut Pumpkin Noodles to add a delicious crunch in place of regular boring croutons. Working wonderfully with squash, the subtle pumpkin flavour lends itself to this meal, pairing beautifully with the other ingredients. Our BAMnut Pumpkin Noodles are not artificially coloured and naturally orange due to the pumpkin and its rich carotenoids.
If you'd like a vegan version of this recipe, simply swap out minced pork with meatless mince of your choice or mushrooms.
For this recipe, you'll need:
½ BAMnut Pumpkin Noodles, crushed
½ squash
30g minced pork
½ cup of corn
50g sweet potato leaves
6 cherry tomatoes, quartered
5g parmesan cheese
2 tbsp extra virgin olive oil
Here are the simple steps to make this flavourful Stuffed Squash:
Preheat your oven to 180 degrees Celsius. Use a spoon to scrape the seeds from your squash and then drizzle 1 tablespoon of olive oil. Roast in the oven for 45 minutes. While the squash is in the oven, heat one tablespoon of olive oil in a pan over medium high heat. Add minced pork and saute until brown, using a spatula to break into small pieces. Add your corn and saute for 5-7 minutes or until the corn is tender. Add your sweet potato leaves and cherry tomatoes, stirring until the sweet potato leaves are wilted. After removing the squash from the oven, scoop out the insides and mix with the other ingredients. Spoon the mixture back into the squash and coat with crushed BAMnut Pumpkin Noodles and parmesan cheese. Put back in the oven and roast for 5-10 minutes. Serve while hot and enjoy!
By this stage, you might be nearing a food coma. But you have to keep some space for this gorgeous and delicious Dairy-Free Custard Fruit Tart! Custard fruit tarts are the kind of dessert you see at high-tea or at a fancy cafe. The way the fruit is laid delicately atop the creamy custard contained in a golden brown tart shell as it sits in the display is enough to make anyone's mouth water.
Dairy-Free Custard Fruit Tart (Ft. BAMnut Everyday Milk)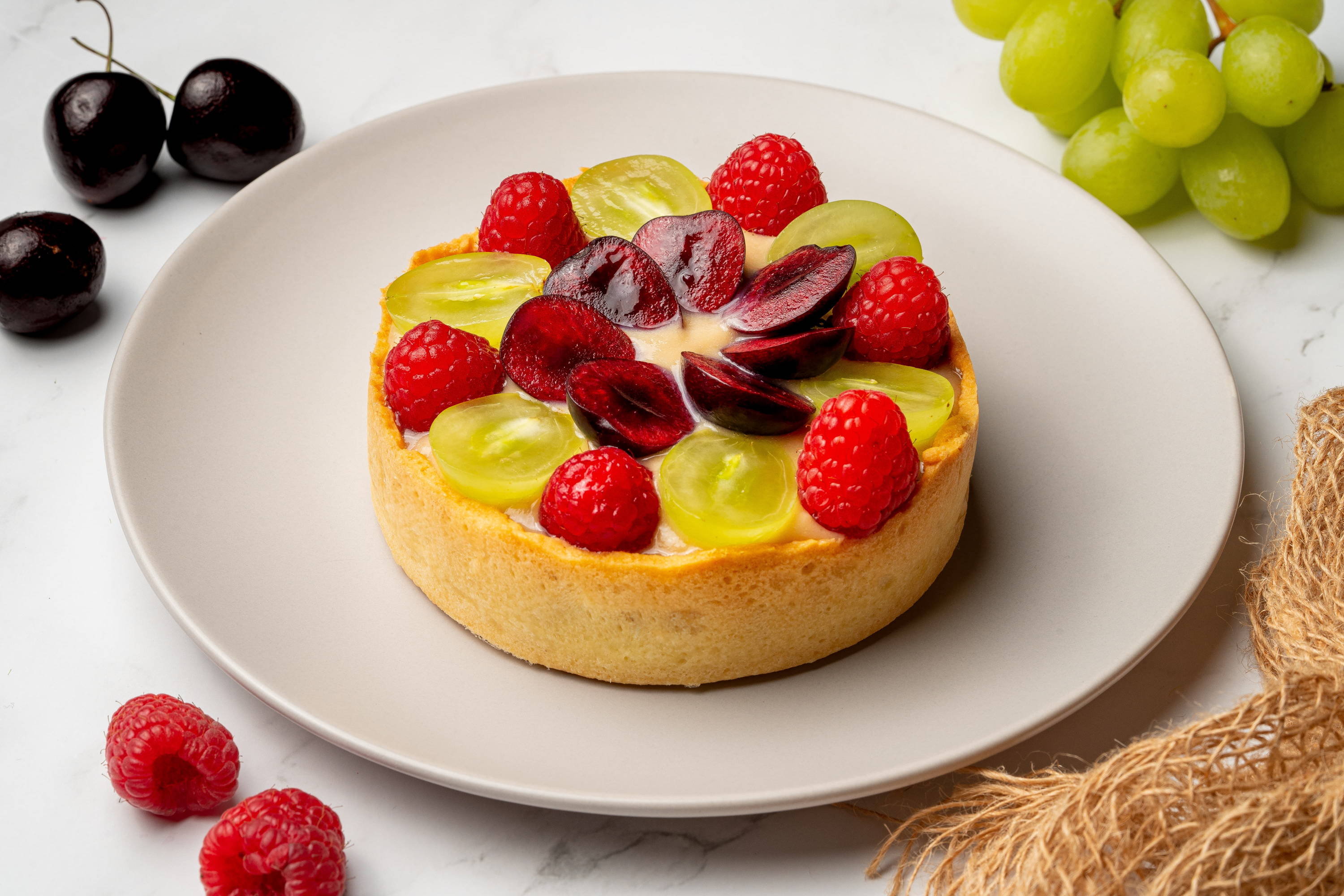 Custards are typically made with milk or cream to give it that light creamy texture. In this easy-to-follow recipe, we've made a dairy-free fruit tart for everyone to enjoy without sacrificing any of the flavour. We replace regular cream/milk with our BAMnut Everyday Milk to give a creamy and subtle nutty flavour, perfect for a light creamy custard.
For the custard, you'll need:
For the pastry, you'll need:
65g all-purpose flour
10ml water
40g butter
Toppings (Optional)
Fruits of choice (Berries, Tropical fruits, Stone fruit)
Here's how you put this yummy Dairy-Free Custard Fruit Tart together:
For the pastry, combine flour, butter and water in a stand mixer until it forms a dough. Roll out your dough until it's roughly 3mm in thickness. Put the dough into a 10cm mould, and trim the excess dough off the edges. Line the dough with parchment paper and fill with baking beans or uncooked rice. Bake for 10-15 minutes. Remove baking beans and put your tart shell back in the oven until golden brown.
To make the custard, add the BAMnut Everyday Milk and vanilla extract to a medium saucepan and bring to a boil over medium heat. Once boiling, immediately remove from heat and set aside to infuse for 15 minutes. In a bowl, whisk the egg yolks and sugar until light and fluffy. To the same bowl, add the cornstarch and whisk vigorously until no lumps remain. Whisk in ¼ of the hot milk mixture until combined. Mix in the remaining ¾ of the milk mixture. Once combined, strain the mixture back into the same saucepan. Let the mixture thicken over medium high heat, whisking constantly. Once thickened, remove from heat and stir in your butter. Allow the mixture to cool slightly, before covering with a plastic wrap, lightly pressing the plastic against the surface to prevent a skin from forming. Let the custard chill for at least 2 hours or until ready to serve. To serve, pour the custard into the pastry and garnish with fruits of your choice. Enjoy~
And that's it: another incredible 4-Course Festive Lunch Menu, all featuring our uniquely delicious, nutritious, and planet-positive BAMnut Milks and Noodles! Get creative, and tag us at @whatiffoods.sg to show us your Christmas Day Lunch featuring the goodness of BAMnut ✨ Wishing you a Merry Christmas and an amazing festive season!