It's the most wonderful time of the year~ Christmas Eve is only a few days away! Hopefully you've stocked up on all your Christmas gifts (if not, you better run!!!). If you're planning to host a Christmas Eve dinner, we have the perfect set of festive plant-based recipes that are guaranteed to impress your guests and make them go for first, second, and even third servings! And you'll definitely be the talk of the party when you tell them that every course was made using the regenerative wonder crop that is the Bambara Groundnut (AKA BAMnut) 🌱✨ In our holiday roundup of showstopping BAMnut recipes, we've curated a 4-course menu consisting of a drink, starter, main, and dessert that would work perfectly for a Christmas Eve Dinner. Let's dive straight into the recipes!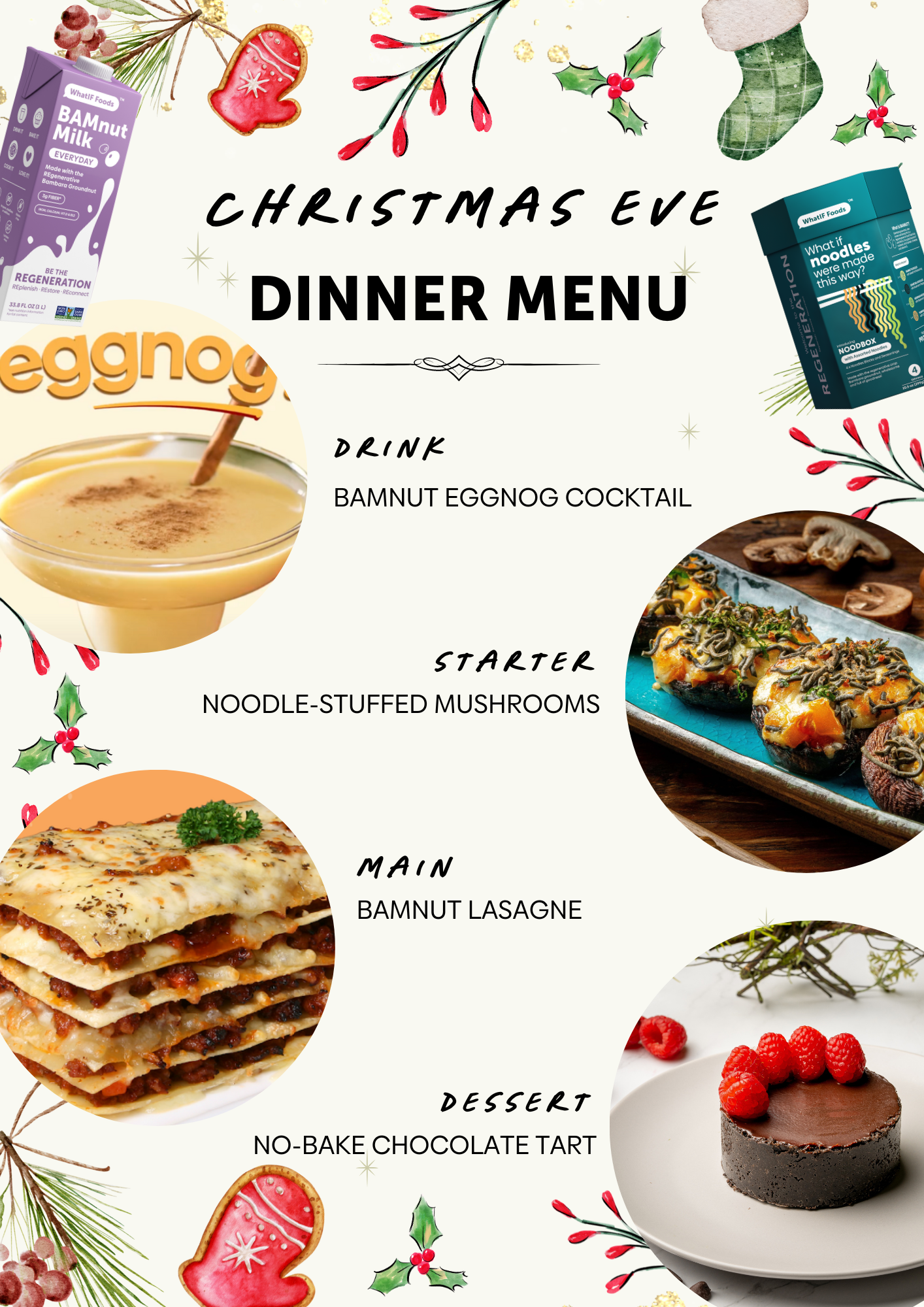 BAMnut EggNog Cocktail (Ft. BAMnut Everyday Milk)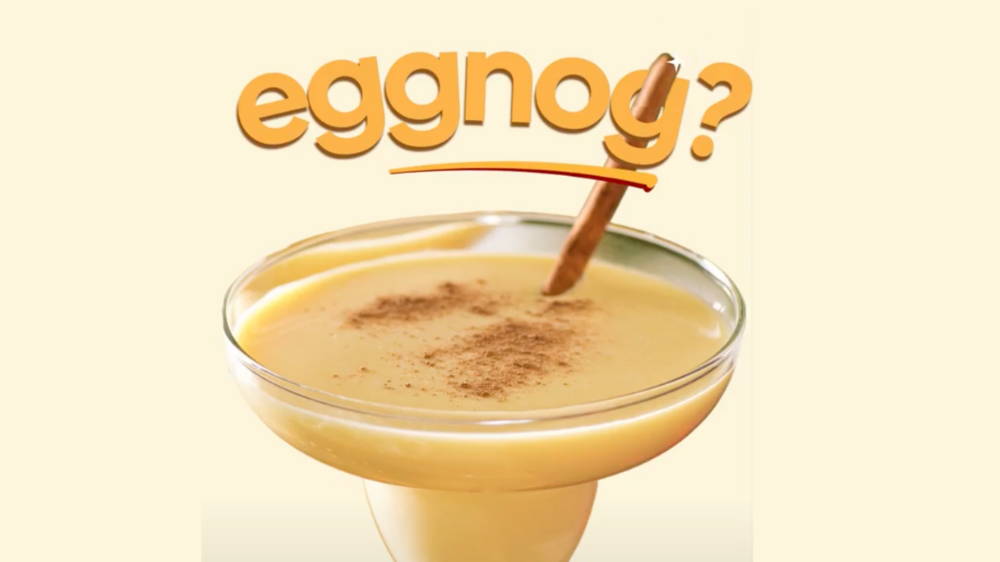 Starting off with drinks... you can't have a Christmas feast without Eggnog! Eggnog (also known as milk punch or egg milk punch) is a cold, dairy-based beverage, traditionally made with milk, cream, sugar, egg yolks, and whipped egg whites. To this mixture, alcoholic spirits such as brandy, rum, whisky or bourbon are added as a key ingredient.
In this recipe, we add our BAMnut Everyday Milk in addition to using commercially-prepared eggnog. Our BAMnut milk is the perfect ingredient that gives a drink a splash of creaminess with a hint of nuttiness. BAMnut milk is an extremely versatile dairy-free milk that can be shaken, stirred and mixed well with different types of spirits. It can be enjoyed on its own or with a wide variety of cocktails, both hot and cold. We add ground nutmeg and cinnamon stick for garnish, creating a perfectly festive-looking drink!
You'll need:
1.5 oz vanilla vodka
1 oz amaretto liqueur
2 oz eggnog
Ground nutmeg (for garnish)
Cinammon stick (optional, for garnish)
Here's how you make this christmas eggnog cocktail:
In a cocktail shaker filled with ice, add vanilla vodka, amaretto, BAMnut Everyday Milk, and eggnog. Shake well for at least 20 seconds. Strain into a chilled cocktail glass and dust with ground nutmeg. Garnish with a cinnamon stick (optional). Serve and enjoy. Cheers!

Moving onto the appetiser course, we've put a twist on the traditional stuffed mushrooms and added our very own BAMnut Charcoal Noodles, made from Bambara groundnuts.
Noodle-Stuffed Portobello Mushroom (Ft. BAMnut Charcoal Noodles)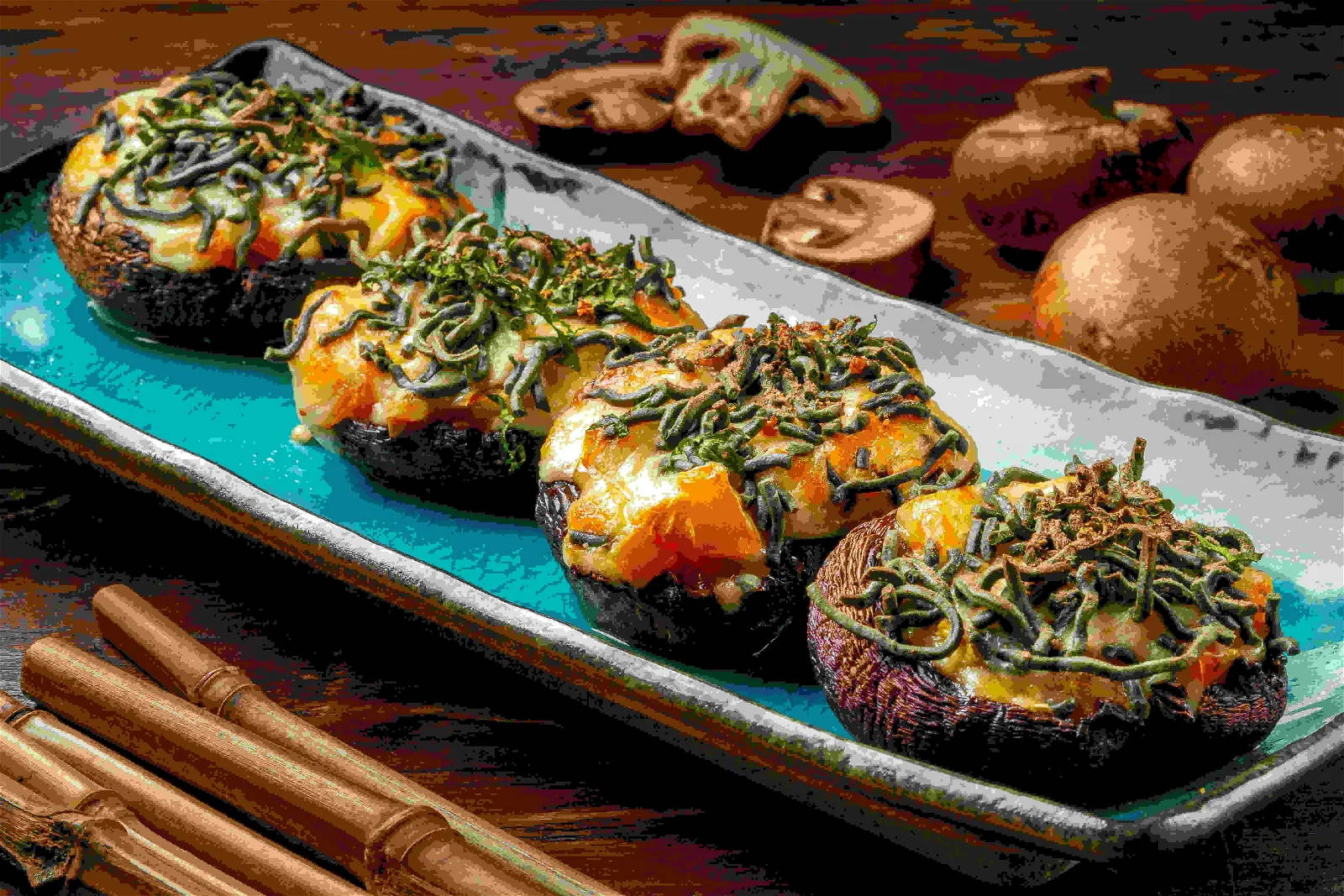 These noodle-stuffed portobello mushrooms are deceptively easy to make, using only our BAMnut Charcoal Noodles, tomatoes, mozzarella and olive oil. The natural colour of these noodles come from charcoal from bamboo and add a unique pop of colour to the dish and a crunchy texture to this dish. You can use chopped fresh parsley as a garnish to bring even more colour to the dish!
You'll need:
Here are the steps to make yummy noodle-stuffed portobello mushrooms:
Preheat your oven 200 degrees Celsius. Remove the stem and scoop out the gills of the mushroom using a spoon. Break the BAMnut Charcoal Noodles into small pieces. Put diced tomatoes into the mushroom and cover with grated mozzarella and the BAMnut Charcoal Noodles pieces. Sprinkle the BAMnut Charcoal Noodles seasoning, drizzle with olive oil and bake in the oven till the cheese is melted and mushrooms are tender (about 10-15mins). Garnish with chopped parsley (optional).

And the main star of the show is... this Bangin' BAMnut Lasagne! It ticks all the boxes for the perfect Christmas main: pasta, a meaty tomato sauce, and a mix of melted and crispy cheese all in one bite, what more could you ask for?
BAMnut Lasagne (Ft. BAMnut Everyday Milk)
In our recipe's cheese sauce, we swap out regular milk with the creamy, protein-rich goodness of BAMnut Everyday Milk to create a healthier lasagne that doesn't compromise on flavour. We've also used meat-free mince to create a meat-free recipe.
If you'd like a vegan version of this recipe, simply swap out butter and cheddar for vegan alternatives.
For the "meat" component, you'll need:
10.6 oz Meat Free Mince of your choice
2 tbsp Olive oil
1 bulb Onion (chopped)
1 stalk Celery (diced)
2 cloves Garlic (crushed)
1 cup Mushrooms (diced)
1.7 cup Tomato passata
Gluten free vegetable stock (1 cube dissolved in 3.5 tbsp hot water)
1 tbsp Tomato puree
1 tsp Oregano
Salt (to taste)
Pepper (to taste)
8 pcs Lasagne sheets
Basil (optional)
For the cheese sauce, you'll need:
Here are the simple steps to make this hearty BAMnut Lasagne:
Preheat oven at 356ᵒF (180ᵒC). Heat the oil in a large frying pan, add the onion and celery. Cook over medium heat, stirring frequently for about 5 minutes until the vegetables are softened. Add the garlic and mushrooms and stir fry for 2-3 minutes more. Add the passata, vegetable stock, tomato puree and herbs. Stir well. Cook for 8-10 minutes until the vegetables are cooked. Stir in the mince and continue to cook over low heat for 5 minutes. Add the basil (optional) and season to taste.
To make the cheese sauce, melt the butter in a heavy based pan over a medium heat. Stir in the flour and continue to cook for 2-3 minutes. Gradually add the BAMnut Everyday Milk a little at a time, stirring continuously until a smooth sauce is formed. Stir in two thirds of the grated Cheddar. Season with salt and black pepper. To assemble the lasagne, place 2 of the lasagne sheets in the bottom of an oven proof dish. Cover with a third of the mince mix. Repeat with the remaining sheets and mince mix, top with the cheese sauce and sprinkle over the remaining cheese. Bake in the center of the oven for 25 minutes until golden brown. Serve while hot and enjoy the cheesy, nutty goodness!

Dessert = Chocolate. Luckily for you, we have the yummiest, no-bake chocolate dessert that you can make at home easily using our BAMnut Barista Milk!
No-Bake Chocolate Tart (Ft. BAMnut Barista Milk )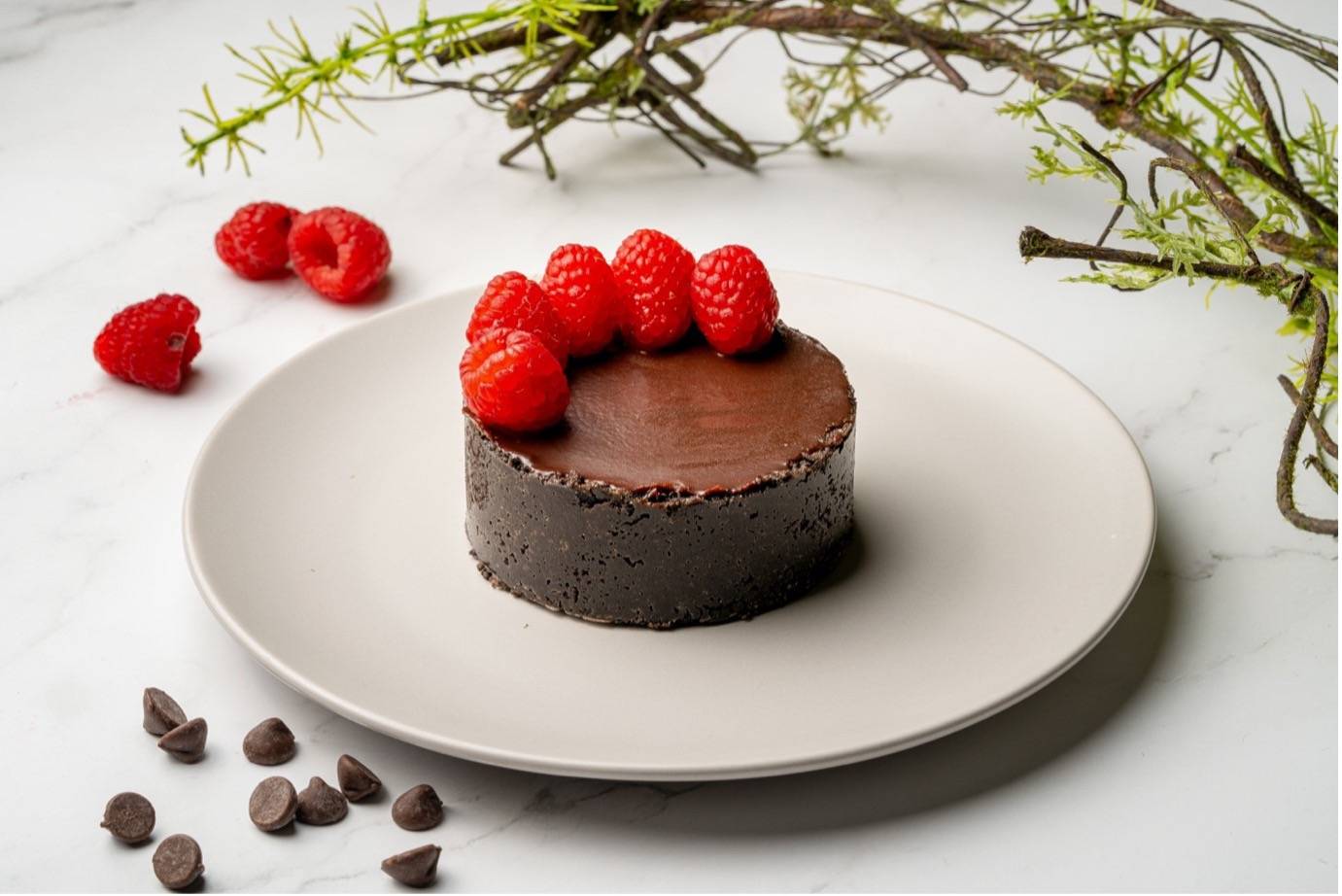 This No-Bake Chocolate tart is the perfect dessert for a special occasion, doesn't take much time, and it's vegan too! Although this dessert requires 3-4 hours to set, it can be prepared in just under 20 minutes and does not require an oven making it that much easier to whip up.
With just these four main ingredients you are ready to get started; vegan butter, 7 Oreos, vegan chocolate chips, and of course our BAMnut Barista Milk. For decoration on top, we decided to use raspberries, although you can use any fruit you like, whipped cream, or even just leave it plain.
Ingredients for the tart shell:
30g vegan butter, melted
7 Oreos, crushed
Ingredients for the filling:
Here's how you put this no-bake chocolate tart together:
First, to create the tart shell, pulse your Oreos and melted butter in a food processor until their combined in a crumbly mixture. Then put the mixture into a tart shell/form to create the base shape, for it to become firm place it in the freezer for 30-40 minutes allowing it to set.
To make the filling, bring the BAMnut Barista Milk to a boil in a saucepan. When boiling, mix in the chocolate chips until they have melted. Once the tart shell has fully set in the freezer take it out and pour the melted mixture into the shell. Lastly, let everything set in the fridge for 3-4 hours, or even overnight if you have the time, then enjoy!

And that's it: a simple yet showstopping 4-Course Plant-Based Christmas Eve Dinner Menu, all featuring our uniquely delicious, nutritious, and planet-positive BAMnut Milks and Noodles! Get creative, and tag us at @whatiffoods.sg to show us your Christmas Eve Dinner featuring the goodness of BAMnut ✨ Click here to check out our post featuring another 4 amazing recipes perfect for a Christmas Day Lunch!