We had the great pleasure of being invited to the world's biggest event on Sustainable Innovation - the Planetiers World Gathering, held from October 23-26, 2022 in Portugal's capital Lisbon.
With the motto "Empowering Sustainable Solutions'', the Planetiers World Gathering (PWG) aims to be a key accelerator of sustainable change through gathering the most innovative social impact startups, communities and cities, day-to-day sustainable projects, and the most inspirational change-makers in the world in the same place. The 3-day event saw more than 270 speakers, 50 startups and 20 investors, 4,000 in-person participants, and 13,000 online participants from more than 100 countries.
WhatIF Foods' panel discussion on "Positive Change", led by marketing and brand expert Sabine Schindlbauer, had a prominent lineup consisting of Christoph Langwallner (CEO and co-founder of WhatIF Foods), Scott Poynton (founder and CEO of the Pond Foundation), Peter Wennstroem (founder and CEO of the Healthy Marketing Team), and John Fullerton (thought leader, impact investor and founder/CEO of Capital Institute).
The conversation on the PWG Impact Stage focussed on showcasing the future of food and how WhatIF Foods is already contributing to positive change by implementing their unique value(s) chain.
REgeneration the WhatIF Way - what REgeneration means for WhatIF Foods
The WhatIF Way & the importance of REplenish - REstore -REconnect
Chris Langwallner: The WhatIF Way is essentially the definition of our entire business model. We REstore degraded arable land using a forgotten crop called the Bambara groundnut that meets certain objectives including rejuvenating degraded land and its production capacity; we REconnect on a very very deep eye to eye level with farming communities, we are partnering with farmers directly, eliminating middle men, giving them the voices they deserve and building up a value chain together with them from the ground up. The entire philosophy of REgeneration also has to come with human health and therefore the foods that we produce made out of these forgotten crops are designed to REplenish us. We believe there is a need in the 21st century to bring nourishing foods back by utilizing nature's incredible variety and bring back complete crops such as the Bambara groundnut.
The totality of these 3 aspects is what we call the WhatIF Way.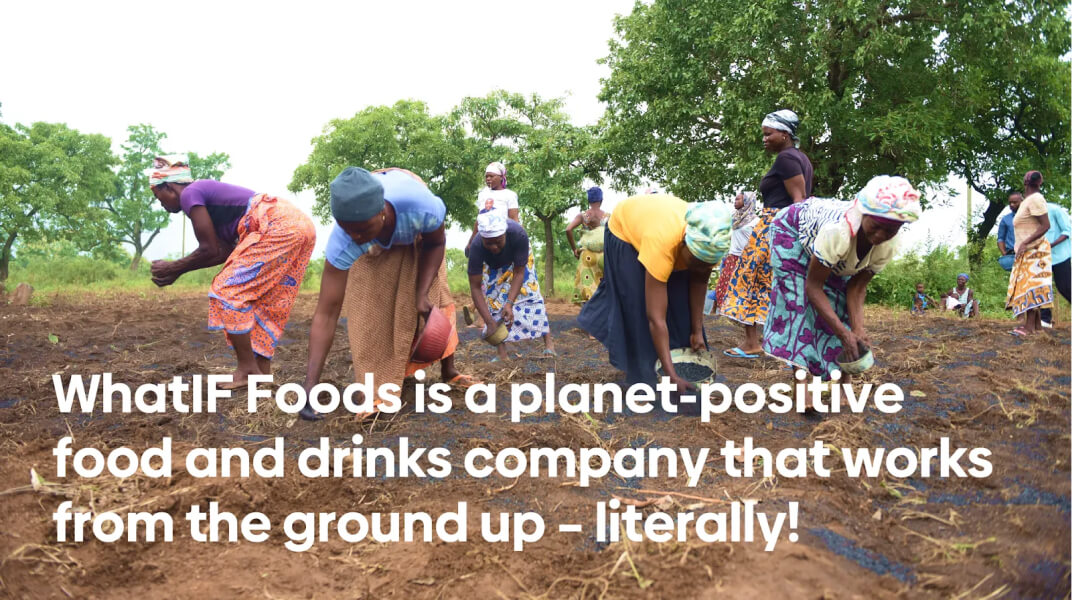 Chris Langwallner: WhatIF Foods is a planet positive company and we make foods and drinks, working from the ground up, literally. We aim to bring life back - back to the soil, back to communities, back to our value chain and back to our health.
Our soil needs to be healthy in order for the planet and us to be healthy; the Bambara groundnut and how it helps REstore degraded land.
Scott: Over the last decades soils have been depleted by extensive plowing, being exposed to fertilizers, spraying herbicides and pesticides. The Bambara groundnut is a remarkable crop; it is a legume and when it grows it fixes nitrogen back into the ground. We also chose to use the shells of the Bambara groundnut and use this organic matter and put it back into the soil; our farmers use this type of biochar as a natural fertilizer which holds water and nutrients and thereby also restores their land without having to use chemicals.
It is also a remarkable crop from a nutrient perspective as it is rich in protein and fiber and is a so-called complete crop that farmers can fall back on during their dry season.
When we first started out, everything was dry but we were on a mission and committed to this project. We went out to meet the chiefs, explained our vision of growing the Bambara groundnut together with them, sat under the "meeting tree for hours, had incredible discussions with the men and women of the community, made plans about how to distribute and grow the seeds, trained them on how to produce and use biochar, supported other areas of their lives; the process has started, it is still a lot of work but we are now working together with over 200 farmers and adding more.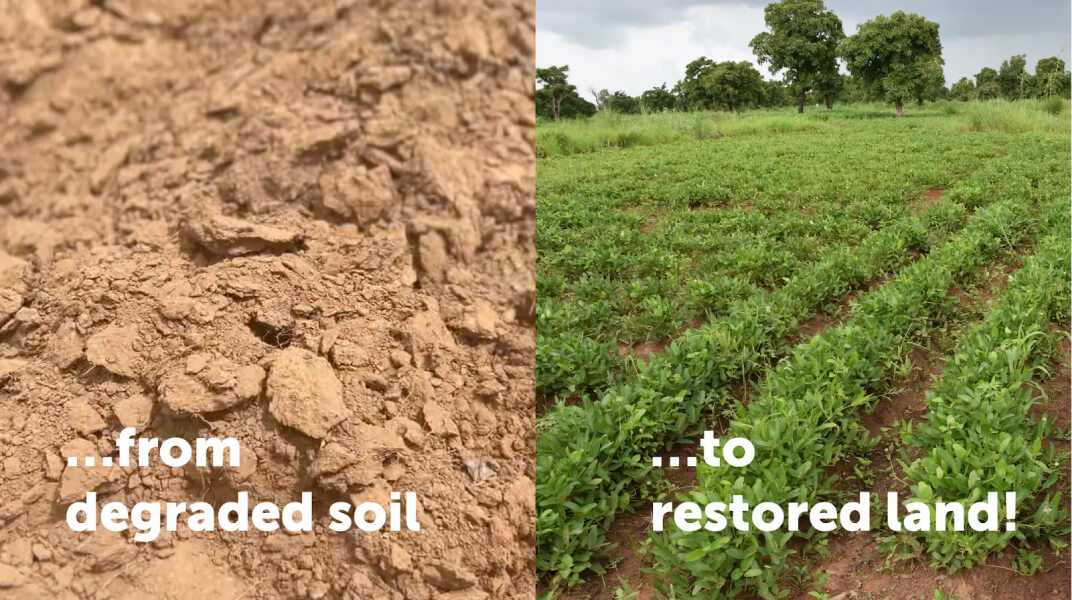 How do our products, our BamNut Milk and Noodles, REplenish us?
Chris: Our journey to profoundly change the food system category by category has been driven by our R&D team who constantly questions the way food is being made these days. Our answer to "What if plant milk or noodles are made this way?" - is a different approach; a way without gums, stabilizers, artificial colors or flavors.
It's been a tremendous undertaking to create a plant based milk out of only 3 ingredients: water, the Bambara groundnut and a vegetable oil, in our case coconut oil. Our philosophy is to keep the integrity of a complete crop as it is, without using the "ingredients piano" that nowadays is available through so many different ingredient suppliers.
By taking out deep frying and palm oil, our noodles automatically are about 60% less in fat and they retain their natural color as well as nutrients. On top of that, they are packed with 22-24% protein.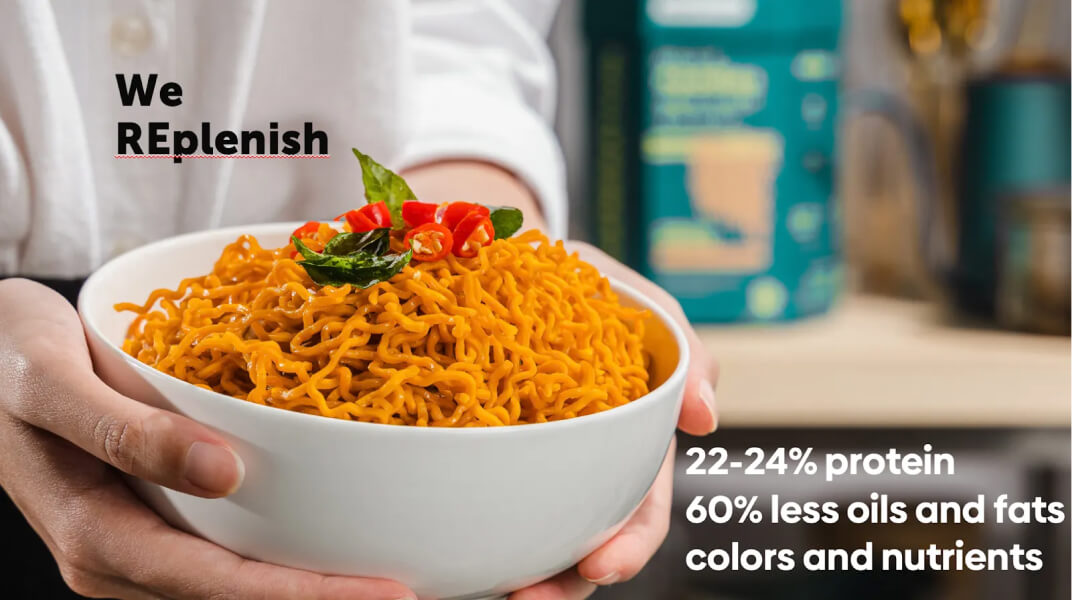 What's in it for the consumer?
Peter: Let's go 10 years back in time and put it into a branding context. In 2012, we worked with the owners of Oatly to reposition their brand and it became clear very quickly that they were not selling oat milk but they were selling change. Once the founders and management team incorporated that and believed in that, the messaging became very clear. Fast forward 10 years, Chris and WhatIF Foods came along, we started a dialogue and the messaging was indeed very complex; the whole value chain, Ghana, the Bambara groundnut etc. We quickly realized that we cannot just simply sell the story of the BamNut as there is no BamNut category yet or a plain product as it would be incredibly hard to differentiate ourselves in a sea of other plant based milks.
However, WhatIF Food's mission was crystal clear from the beginning "We want to reinvent the food industry category by category" and they are not just saying it but as you have seen, they are doing it. The key is to connect that to the consumers and find love, support and engagement among them. We are not selling BamNut milk, we are selling the question of "What if plant milk is made this way?" which also differentiates us from others who are selling products; we are selling a philosophy and the brand behind it. We found our target consumers within the "REgeneration", the GenZ, the future generation and we aim to be part of this movement, start a dialogue with them and contribute to their mental well being.
It is rare for me as a brand developer to see a company take "profound and positive change" so seriously and have such a long term view on it.
What makes WhatIF Foods stand out when REconnecting to farming communities and consumers?
Scott: We are building relationships. The farmers we work with are our partners; we are in a relationship with our farmers and we are in a relationship with their land. We treat them with the utmost respect and we aim to gain their trust by being a partner that returns often, works together with them, helping them with advice and guidance, visiting them frequently and not leaving them alone in the process. Normally companies go there once and tell them "here are the seeds, here are the pesticides, we are making a tally of that and we come back at the end of the season to take that off your price and give you the lowest price possible for your crops".
Our partners tell us that no one has ever worked with them before like we do. Building relationships with the soil, the land and the people is the first step towards REgeneration.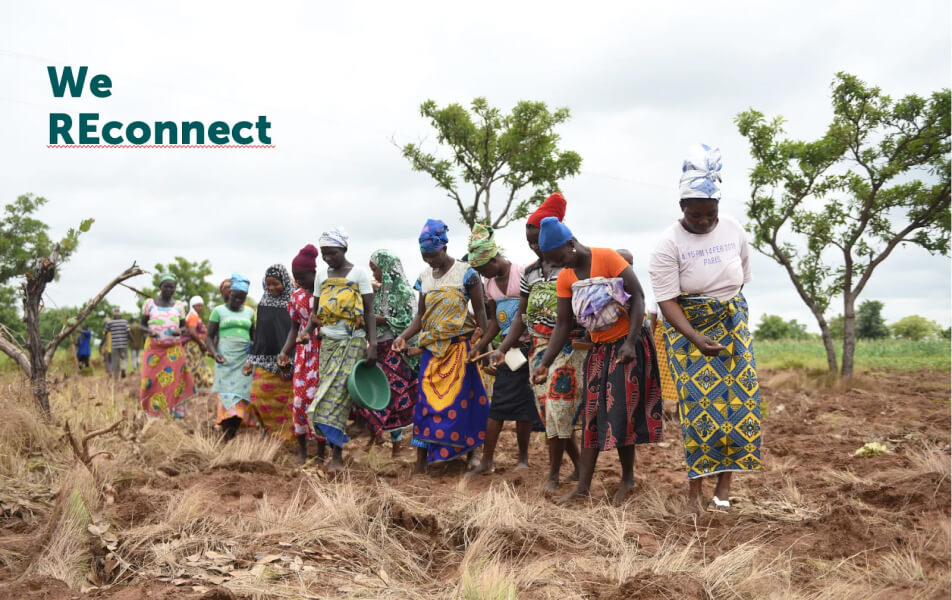 Peter: This current GenZ generation is a very media and social media savvy generation which sees through any kind of greenwashing right away. If we are true to what we do and can really engage them and make them understand that we are really here for tangible change then they can connect to us. Our products also perfectly fit into their lifestyle so we can become part of their daily life with both the product and the way we are doing things. That way they can be the REgeneration because we are not just a company but an ideology.
To sum it up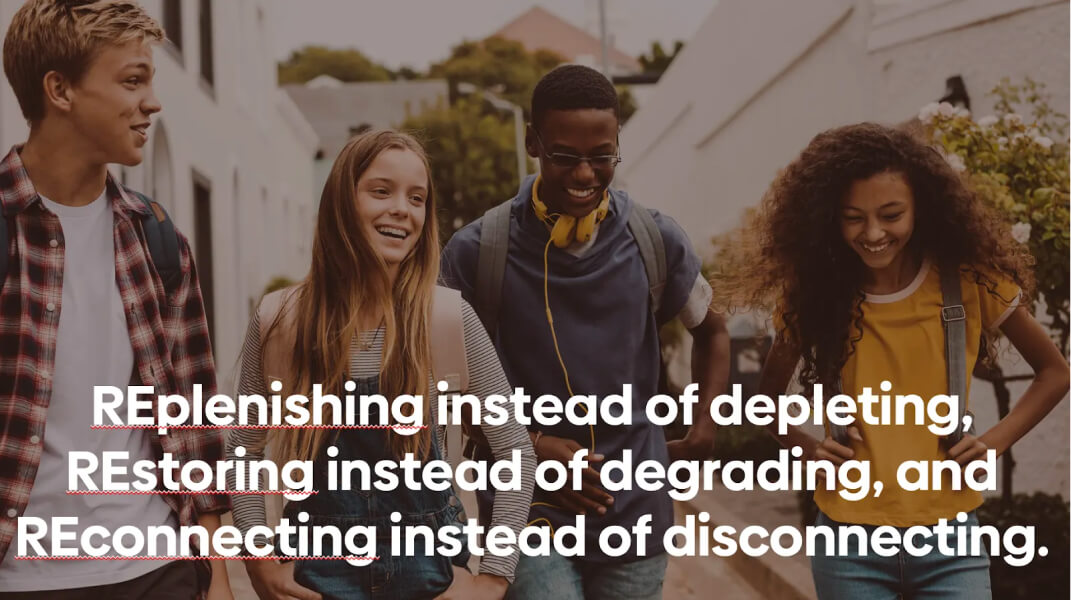 Chris: We aim to achieve that the Lust For Life we have and the REgeneration we live is being translated to everyone out there that are desperately trying to regenerate what's broken so that today's youth and tomorrow's generation have a future. We inspire to REplenish rather than deplete, we REstore rather than degrade and we REconnect instead of disconnect, not only within our organization but with our farming communities on the one hand and consumers on the other.
This is how we have created our business model; many have told us that we will never be able to pull it off, but here we are, having launched in Singapore, Malaysia, Australia, New Zealand and the US driving positive change wherever we can.
John: What can I say other than to applaud - it's an extraordinary story and it makes my heart warm to listen to it. The potential of this story existed forever and what gives me hope is that through creative entrepreneurship but also aligning with how living systems work you have all manifested a potential that is nowhere near the IPCC forecast or the doom and gloom linear analysis and you have shown us that this potential is very real. I sit here filled with hope and nothing but admiration for the courage and journey WhatIF Foods has been on.
Please watch the full video of our panel discussion here.