"Everything that I'm doing, I want to give it my time and I am committed to what I'm doing. And definitely when you are focused and committed, you get what you want." This is the philosophy that Mashud, the CEO of Kasima, upholds and exemplifies in his life.
While he now spends most of his time interacting with communities in villages across northern Ghana and empowering livelihoods through regenerative agriculture, Mashud used to have a completely different life as a car mechanic. Though they may seem two worlds apart, these two trades collide and revolve around the same orbit - Mashud's ambitions and aspirations that are accompanied by his huge sense of responsibility, commitment, hard work and most of all, connection with people.
Born and raised in Aboabo, a town situated in Tamale, Mashud had always hoped of moving to Libya to find better opportunities. Though Tamale is the fourth largest city in Ghana, it remains relatively poor and lacks basic necessities. It is common for young and skilled individuals to leave the city as they pine for a better future, not just for themselves but also for their families.
As someone who always loved tinkering with objects and fixing things, Mashud studied engineering and became a bicycle mechanic upon graduation. However, he soon figured that in order to migrate to Libya, being a bicycle mechanic was not enough. He needed to upskill himself for better opportunities. He then decided to become an auto-mechanic and went on to learn everything he needed to know about the industry.
In the meantime, two of his brothers had already left for Libya in search of greener pastures, yet were constantly needing Mashud to send them money to sustain themselves, which led Mashud to question the promises of the country after all. Besides, as more of his siblings were leaving the town for "better opportunities", Mashud became worried for the rest of his family. Even though he was not the eldest amongst the 18 of his siblings, he candidly shared that he often assumes responsibility for the family and attends to their needs. "If I move, my family will suffer because no one is here." With that, he eventually decided to forego his dreams of Libya and instead, stay in his hometown where he opened a car mechanic shop.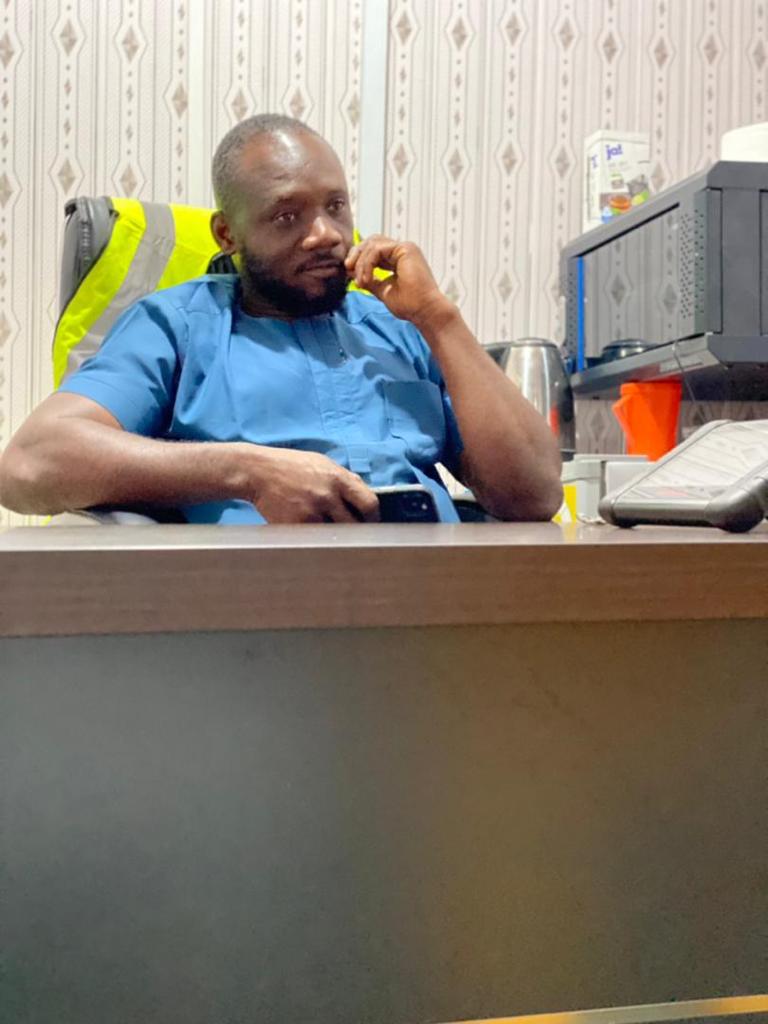 (2009, Mashud in his car mechanic office)
This soon proved itself to be a wise decision. Mashud was knee-deep in this trade, committed to providing the best service to his customers while also continuously learning from online resources such as forums, which he often turned to for advice and knowledge about the automotive mechanism. It was through this online forum that he got acquainted with a Canadian mechanic who eventually visited Mashud in Ghana for six months. Through their interactions, the Canadian mechanic was so impressed with Mashud's quality of work and attitude that he offered Mashud a job opportunity in Canada. Flattered and humbled as he was, Mashud politely declined as he was clear and firm on his priorities - to be close to his family and focus on growing his car mechanic business. The Canadian friend respected the decision and before leaving Ghana, gifted Mashud a vehicle diagnosis machine, a key tool required to diagnose problems with vehicles. This was in 2009 and Mashud became the first person throughout all of northern Ghana to have this machine.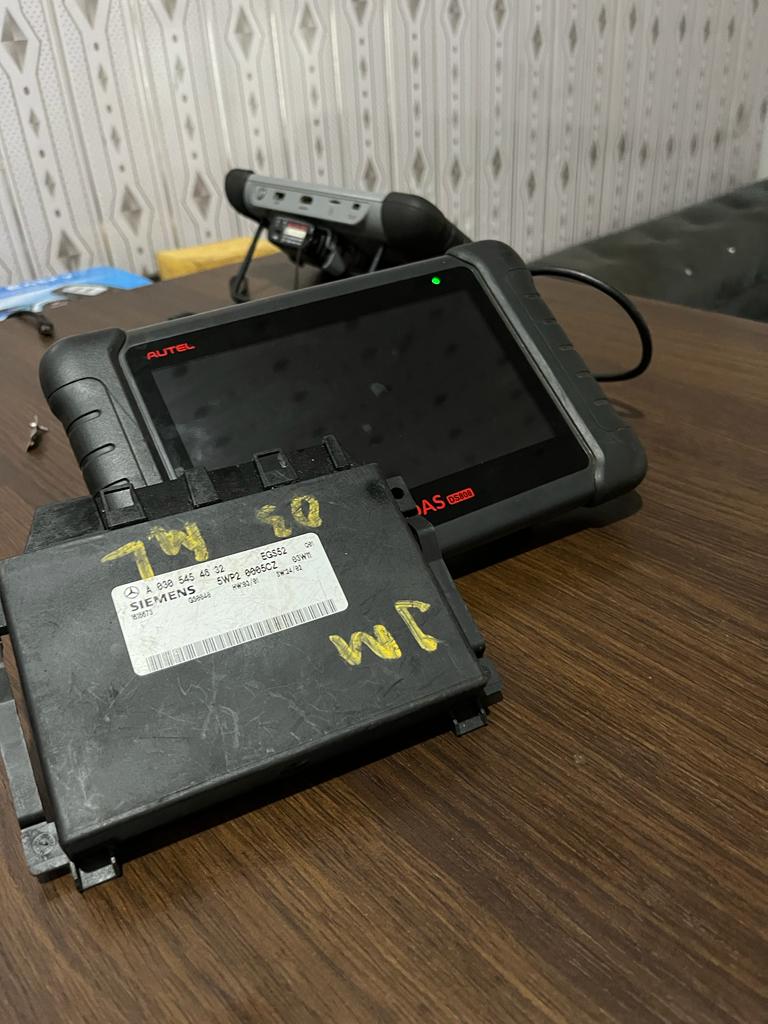 (2009, Mashud's vehicle diagnosis machine)
With his expertise and high standards of work ethic, opportunities kept knocking on his door. His business soon grew beyond Tamale as he started receiving requests from customers in Accra, where he once managed to fix a car which no other mechanic was able to. The happy customer, once again impressed by Mashud, then invited him to move to Accra to work as a project supervisor in his construction business. Mashud took up the collaboration opportunity and spent 2 years working in Accra. It was a successful partnership and an eye-opener, especially as this project also gave him the chance to travel to Guangzhou, China for an assignment. However, being in Accra brought about a different kind of reality-check.
"When you go to Accra, even if you are rich, the moment you tell people that you are from the northern region, they don't value you," Mashud explained the negative characterisations that are often casted on the people of the region where he came from. However, he also quickly refuted, "In terms of being hardworking, we are number one!"
It is such negative and unfair misperceptions that drove Mashud to walk a different path, one that eventually led him back home. Despite being offered several opportunities to relocate to other cities and even countries for "better opportunities'', Mashud decided to return to his roots as he felt indignant about the false hopes of migration. He ached as he saw how people from his community were leaving their families and homes in search for better futures, yet were often confronted by the harsh reality that regardless of how hard they worked, they were always undervalued and undercompensated, simply because of the negative perception that others had of people from northern Ghana. Since then, he took on a new conviction - to create opportunities and empower people in northern Ghana such that they could develop skills which would earn them decent wages in their hometowns, without having to leave families behind. He wanted to reshape the narrative and have the people of the region be known for what they really were - hardworking and dignified. With that, instead of solely focusing on his personal growth and learning, he dedicated just as much time to training his employees and peers in the know-how of the automobile mechanism trade. He wanted them to realize the potential that lies in their region, the possibilities for them to flourish in their hometowns in a way that migration may not deliver.
Mashud's pivot from automotive to agriculture was a slow but imminent evolution that followed his new conviction. He was approached one day, through contacts of contacts, to host WhatIF Foods, a regenerative food company that was planning a visit to northern Ghana to learn more about the Bambara nut, a crop native to West Africa. Mashud took up the ad-hoc gig to host the WhatIF team in their research trip, bringing them samples of the beans while also introducing them to various farming communities in northern Ghana.
What was supposed to be an ad-hoc side gig very soon took on a much bigger place in his life. Those several trips to the communities left Mashud sleepless at night. "There are some communities that when you go, you tell yourself, 'I need to find solutions for that.'" Many of these communities are living in poverty and do not have basic necessities like light and clean water, or schools where their children can receive proper education. He very quickly recognised that the development of northern Ghana was in their own hands.
After several successful ad-hoc engagements, Mashud was eventually invited to be the official outreach partner for the Bambara programme in collaboration with WhatIF Foods and Pond Foundation. Inspired by the mission to uplift communities from poverty and bring forth positive development within, Mashud decided to hand over his automotive business to his brothers and several trusted employees, so that he could start a new venture - Kasima Ghana, an organization that would work closely with communities across Ghana to produce Bambara groundnuts while also implementing other projects to improve their quality of living.
It might have seemed unthinkable for him to let go of a successful business that he had worked so hard to build, yet to Mashud, who was driven not by monetary success nor conventional achievements, but by the drive to bring positive development to his hometown, the decision was not a difficult one to make.
With such a big career change, Mashud rang up his dad to share the news. It was a full circle moment and a confirmation of his decision, as it was only through that very phone call that Mashud learnt that his great-great-grandfather also used to farm and trade Bambara groundnuts, alongside other crops such as corn. This serendipity solidified his decision even more, and with the blessings of his father to keep up the legacy of his great-great-grandfather, Mashud dived right back into his roots.
As it turns out, Mashud was the perfect fit for the role of a community outreach partner. Though he never worked as a farmer himself, his father had always been in the agribusiness - growing and trading crops like maize and millet - so Mashud grew up frequently helping out in the fields. This gives him a deep appreciation and nuanced understanding for the labor of work involved, which helps him to now better empathize and connect with the farming communities that partner with the Bambara programme. Besides, Mashud speaks 4 languages (English, Dagban, Mamprusi and Chokosi) and understands another 6 languages (Nawure, Chunbulum, Birifor, Hangs, Komkombas and Tampulm). His ability to speak and understand these languages, along with his sincere and honest personality, allows him to build strong rapport with the communities and engage in meaningful conversations with them about their needs, challenges and everyday matters. He is clearly well-loved by the communities - as he drives around town, he often slows down the car to greet familiar faces along the way, as they respond with big smiles.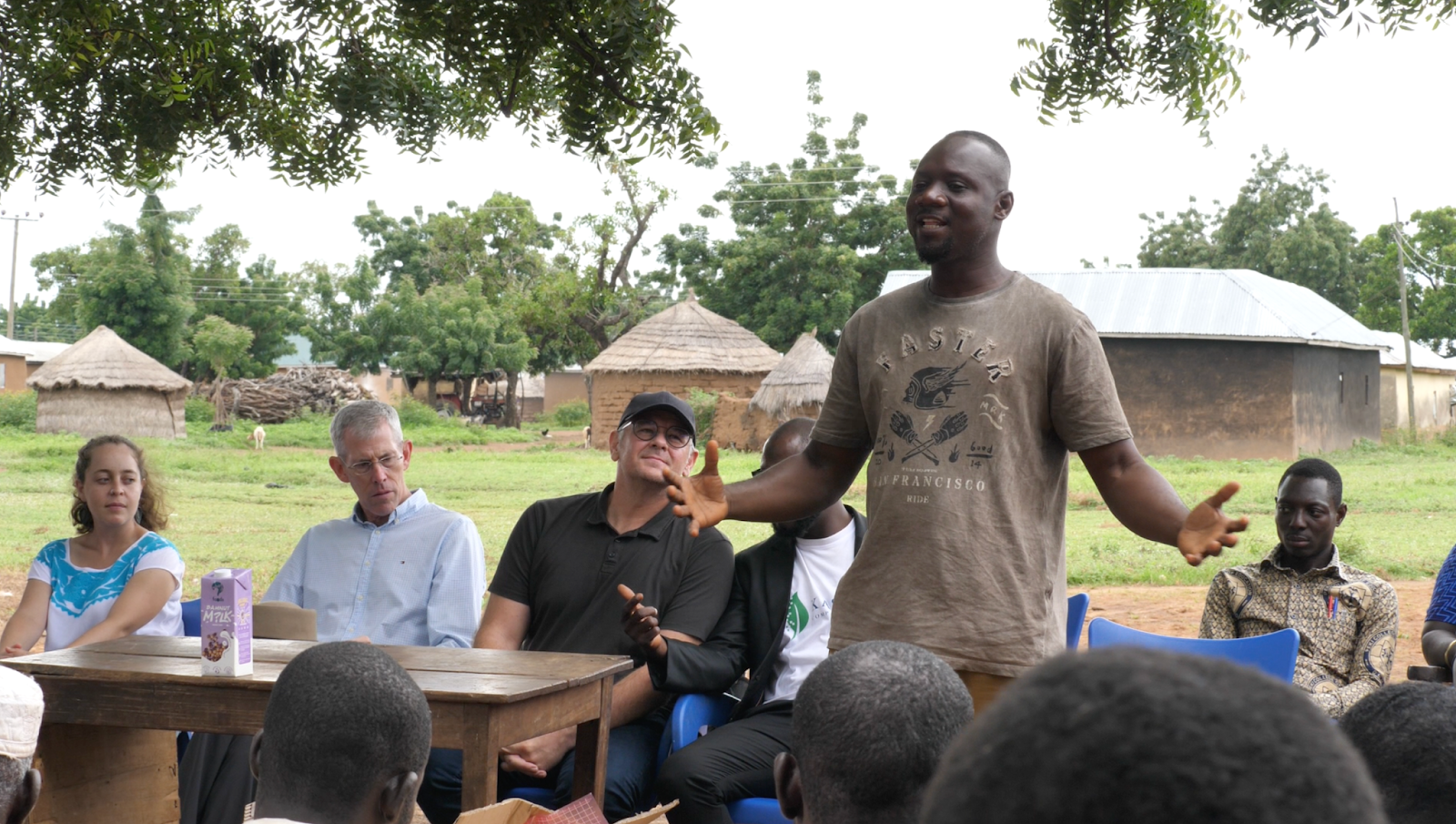 (2023, Mashud giving a speech in a partner community)
With Mashud leading the team, Kasima Ghana is in full operation, with 21 full-time staff and 56 partnering communities actively participating in this Bambara-growing programme which officially started in 2022. Out of these 56 communities, several are Mashud's personal connections, but most of them are communities that were completely new to him and that he had to build relationships from scratch. Together with the Agri Field Officers from Kasima, Mashud visits the communities on a regular basis, not only to advocate for the benefits that the Bambara nut has on the soil, nutritional health and income, but also to address other needs in the community such as providing clean water and educational resources for the children. These initiatives are subsidiaries of Kasima Ghana and made possible through partnerships with Pond Foundation and WhatIF Foods.
When asked about the collaboration between these organizations, Mashud hastily responded, "It's not about Kasima, Pond Foundation, or WhatIF. It's about what we are going to deliver together. That's it." It has become difficult for Mashud to talk about the organizations in silos as they have become so intertwined in their work, connected by the same belief and mission to bring about a whole regeneration for people and the planet.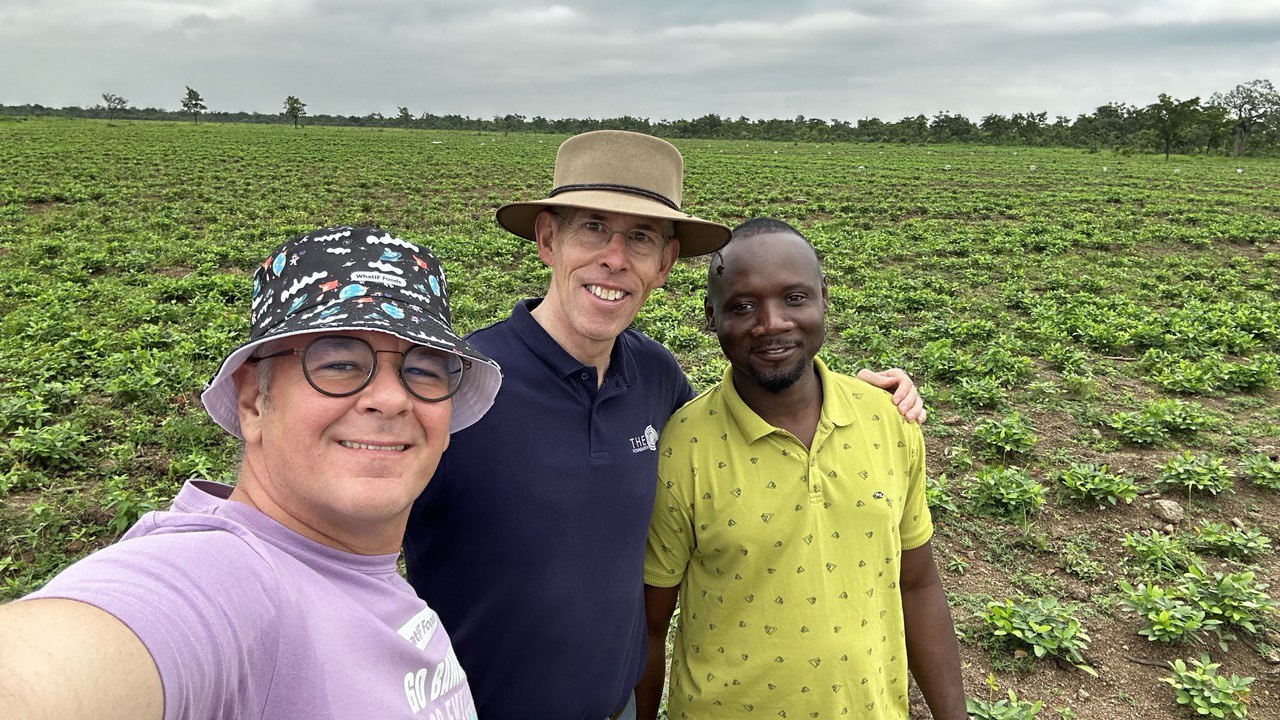 (2023, Chris from WhatIF Foods, Scott from Pond Foundation and Mashud from Kasima Ghana)
After the first harvest season in 2022 when Kasima purchased the beans from the 25 partnering farming communities, people from many other communities saw the positive impact of the partnership and started ringing Mashud, asking to be a part of the programme. By early 2023, the number grew to 56 partnering communities, with many more being put on the waiting list for the following season. Till then, he managed to engage some of these interested communities in other related-work such as tending to the project research fields where they experimented with different variations and growing conditions of the Bambara plant.
Though the partnership between WhatIF, Pond Foundation, Kasima Ghana has only just begun, the favorable response from the communities and the positive impact they have witnessed thus far serve as affirmations to Mashud that he had made the right decision, not only to hand over his automotive business to focus on this work, but more fundamentally, to stay in northern Ghana instead of leaving to Libya once upon a time. It gives him hope and immense pride to now engage in a work that not only uplifts communities from poverty but more importantly, creates an opportunity for people to maximize their potentials and flourish within their respective communities with dignity. It took several twists and turns, but Mashud now realizes that the grass is not always greener on the other side. As it turns out, the grass is greener where you water it.
Having a glimpse now of what regeneration can look like back home, Mashud remains even more hopeful about the possibilities ahead. "My dream is to get a factory that can produce a lot of milk for the whole of Africa, to save Africa and beyond. That's my dream."