The signs are there and have been for decades, but this pandemic has been left to draw its course.
The world has seen an exponential rise in morbidity from noncommunicable diseases such as cardiovascular diseases, obesity and diabetes in the past decade. This rise shares traits with a pandemic of infectious diseases, despite it not being called so. A paper from the University of Oxford (Allen, 2016) fights for this adoption in terminology, stressing the importance of this 'pandemic':
'It has become apparent that social, political, and economic trends (including national economic performance, urbanisation, population aging, globalisation, and the increasing marketing, affordability, and availability of unhealthy products) are the most significant drivers of the NCD boom, rather than a sudden uptick in human laziness.'
To clarify, it is not only that individual behaviours dictate our susceptibility to noncommunicable diseases, but our societal structure encourages this susceptibility to exist in the first place. Noncommunicable disease can thus be understood to be in communicable conditions, with serious implications for public health. A pandemic, if you will.
Why did it come to be: An obesogenic food environment
The blame is on the poor quality of food people are eating. Per the quote above, we are shaped by our society and the availability of choices it allows us. As calorie-rich, nutrient-poor foods flood supermarkets at disproportional prices, their consumption undoubtedly rose.
In a French study by Serge Ahmed, rats had the choice between cocaine and sugar. They chose sugar four times more than they did cocaine. The market took notice: adding sugar to even savoury foods, like ham and soup, making consumption more addictive without consumers knowing it (2020). More terrifyingly, established food companies also spend about 30-times more on promoting junk food than their respective governments on healthy eating (Malhotra, 2020).
Diet related chronic diseases are affecting half of Americans, some more than 100 Million people. 'Food quality, food access, food marketing and food choices are not casual concerns. They are proving, more than ever, to be matters of life and death (Gillam, 2020).'
The Nutritional Paradox calls the long-term effects of such a food environment the quadruple-burdens of the agrifood industry. See below.
Why don't we care?
A major problem around healthy eating is that the 'time to harm' is too long away. 'Time to harm' is a concept connoting the perceived threat based on the time taken for an action to cause a negative impact.
For example, the reason people smoke despite knowing the strong relationship between smoking and lung cancer is that its time to harm is too distant for smokers to see them as real threats. This is not the only reason, of course. But it is a good vector for understanding the psyche behind our actions.
Similarly, the time to harm for the consumption of calorie-rich but nutrient poor foods is relatively long. It can take 10,15, 20 years before cancers, diabetes, strokes or heart attacks hit us hard - often, then, it is too late.
Things are changing
Covid-19 has brought the time to harm of noncommunicable diseases to near zero, when they become determining factors in one's chances for mortality.
48% of Covid-19 victims (note: fatality, not infected cases) are obese in the US- according to the CDC (Gillam, 2020).
Patients with type 2 diabetes and metabolic syndrome have up to 10x greater risk of death when they contract COVID-19 (Malhotra, 2020).
In many countries, healthcare systems were already overstretched before COVID-19, not the least due to a collective failure in implementing policies which address our obesogenic environment (Malhotra, 2020).
This 'time to harm' compression is being experienced by millions around the world right now, between each of our four walls.
And things will change. Post-Covid China has seen an unprecedented rise in demand for plant-based foods, for fear of safety (Master, 2020). People take notice and will continue to take notice beyond Covid-19.
There is a plethora of inspiring innovations with good-hearted leaders behind them popping up from every corner. While the issue is largely overlooked, it also has never been understood and sought out better. It should also, however, not take a pandemic for us to start caring.
Doing our part with regenerative foods
WhatIF Foods set out to find solutions for our dysfunctional food environment.
We promote the adoption of regenerative farming principles by careful curation of our partners across the supply chain. Regenerative agriculture is anchored in long-established principles and practices of good land stewardship and nurturing. Robert Rodale, in the US, first used the term "regenerative organic" to describe "a holistic approach to farming that encourages continuous innovation and improvement in environmental, social and economic measures." (Rodale Institute, 2021). Rodale defined a system, focused primarily, though not solely, on soil health because it is soil health that underpins human and planetary well-being, that goes "beyond sustainability." Our work is informed by, amongst others, the Rodale Institute's Regenerative Organic Standard.
We source our raw materials from a diverse geography. As such, we will be sensitive to local contexts. What works, or is applicable in one location may not work in another. We will thus be flexible in our approach and will work closely and directly with our supplying farmers and their supporting networks to develop regenerative practices that make sense for where they are. Every one of our sourcing regions will have its own regenerative community that together will determine the best way forward.
In promoting regenerative practices, we seek to achieve the following at our partners' farms:
Enhance on-farm biodiversity, ecosystem services, and soil micronutrient
Ensure healthy soil (e.g. soil organic matter and fertility
Improve the carbon sequestration capacity of farmland
Improve system resilience to forces of climate change and extreme weather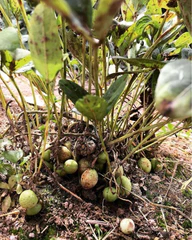 Our work doesn't stop at nutrition. These regenerative crops also empower our farmers who have too often been dis-empowered by the current food system. Farmers adopting regenerative practices would benefit with improved profitability through access to more diverse and value-added markets.
WhatIF Foods creates a brand for those who seek convenient nutrition with a penchant for conscious consumption. Grounded in the mission to bring tasty, nutritious food that is good for our health, farmers, and planet, our brand empowers consumers to bring about the change they would like to see.
With that, I leave you with much to ponder and I hope you will take this time to nourish yourself.
Chris